Woodlawn, MD Chiropractor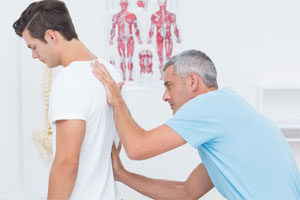 A Woodlawn, MD chiropractor knows that many people who suffer slips and falls often injure their back or neck to some degree. In the moments after taking a fall, many people are too embarrassed to stop and check themselves for injury. Usually, after a few days or weeks do they finally start to feel the extent of the damage done, and then seek help from a Woodlawn, Maryland chiropractor to correct the problem. Not only can a chiropractor treat your injuries after a slip and fall, but they can provide documentation to support your claim if you decide to file a lawsuit against the company or party responsible for the incident.
Here, we have talked about both the health and legal benefits of seeing a chiropractor after a slip and fall accident:
Emergency Care, and Then a Chiropractor
Getting medical care from a chiropractor in Woodlawn, Maryland shortly after a slip and fall accident is key in your recovery and can help strengthen your legal case too. Early medical treatment can prevent injuries from getting worse. It also is a marker for when you started to feel your symptoms and sought care. The injuries for a slip and fall accident commonly include back and neck pain, head injuries, and joint misalignments.
If you suffered from a head injury, then it is advised that you get emergency care and then meet with a chiropractor in Woodlawn, MD afterward. Signs that you could have a mild to severe brain injury include:
Blurry vision

Nausea and/or vomiting

Weak coordination

Memory lapses

Temporary unconsciousness

Intense and relentless headaches
During a Chiropractic Exam
After ensuring that you don't need emergency medical attention for your slip and fall accident, it is recommended that you make an appointment with a Woodlawn, MD chiropractor for an exam. A chiropractor is likely to begin by assessing your spinal column and correcting any misalignments that exist. A chiropractor will want to know about your range of motion, soreness, pain, muscle spasms, and headaches. During your consultation, be sure to be open and honest about your symptoms so the chiropractor can focus on the areas that need the most attention. 
What an Adjustment Will Feel Like
Once a Woodlawn, MD chiropractor has identified what areas need treatment, a comprehensive care plan will be created. A mixture of spinal manipulations, joint adjustments, heat therapy, and massage may be used. To adjust your spine and other joints, your Woodlawn, MD chiropractor may use a handheld tool or hands to apply gentle yet firm and rapid pressure to joints to coax them back into place. The best thing a patient can do when getting an adjustment for their slip and fall injuries is to relax their body and to communicate any discomfort if they arise.
You may hear cracking or popping sounds, which are entirely normal. This sound stems from air pockets that have built up between joints finally being released. After the session, you may experience soreness but no pain, just as if you had a good workout at the gym. 
Chiropractors Can Treat a Variety of Conditions
There are many different reasons to seek care from a chiropractor in Woodlawn, MD. Most of them go above and beyond just having a spinal adjustment in the hopes of easing back pain. While chiropractic spinal manipulation is an effective way of treating back and neck pain, it continues to increase in popularity; and chiropractic care is so much more. 
Mid-Atlantic Spinal Rehab & Chiropractic understands the many benefits to overall health that can be gained from improving the function of the neuromuscular system. We care about helping patients through performing compassionate chiropractic care. This natural form of healing can help in some of these ways:
Chiropractic care can remove and heal the source of the pain
Chiropractic care may be more effective than other treatments because it can remove the pain at its source. A chiropractor Woodlawn, MD  residents trust aims to address the underlying cause of your neck or back pain, headache or migraine pain, shoulder pain, wrist pain, and so much more. Chiropractic care strives to resolve the symptoms by correcting underlying issues linked with misalignments of the vertebrae in the spine. Once the underlying cause of the pain is removed, pressure on pain-signaling nerves is decreased, muscular tension eases, inflammation is reduced, and the pain may no longer be a problem.
Chiropractic care effectively treats many types of issues
A chiropractic professional is often able to help many problems besides muscle and joint pain. The range of conditions chiropractic care may help to resolve is quite extensive and includes:
Digestive issues

Vertigo and dizziness

Sinus problems

Lost flexibility or range of motion

Sleep issues

PMS symptoms

Pregnancy discomfort

Allergies

Fibromyalgia

Stress and anxiety-related responses

Inability to concentrate 
For youngsters, chiropractic care can often help colic, ear infections, and boost the immune system to help protect from colds and the flu.
Patients often discover that chronic conditions they assumed would be part of their everyday life clear up within a few visits. Indeed, it's challenging to tell what is going on under the surface or which variations and misalignments in your neuromuscular system may be promoting unwanted symptoms in the body. Therefore, seeing a chiropractor to discuss conditions you've never associated with chiropractic care before may be a great idea.
Chiropractic care can help increase energy levels and overall well-being
A "real-life" benefit of addressing your health issues with the help of a chiropractor is increased energy and wellness to help with your daily life activities at work and home. Once the pain is removed and better function is restored, you may be better prepared to meet your responsibilities and handle the stresses of everyday life. Indeed, chiropractic care is a highly-effective mainstream healthcare modality that has a storied history and is here to stay.
The best way to find out what chiropractic care can do for you is to reach out to our team to schedule a visit. Once we've thoroughly evaluated your health situation and needs, we'll design a comprehensive care protocol to address them. If you have any questions about what we can do to help you, feel free to contact us today. If you are experiencing intense aches, then contact a Woodlawn, MD chiropractor patients recommend from Mid-Atlantic Spinal Rehab & Chiropractic right away for advice.